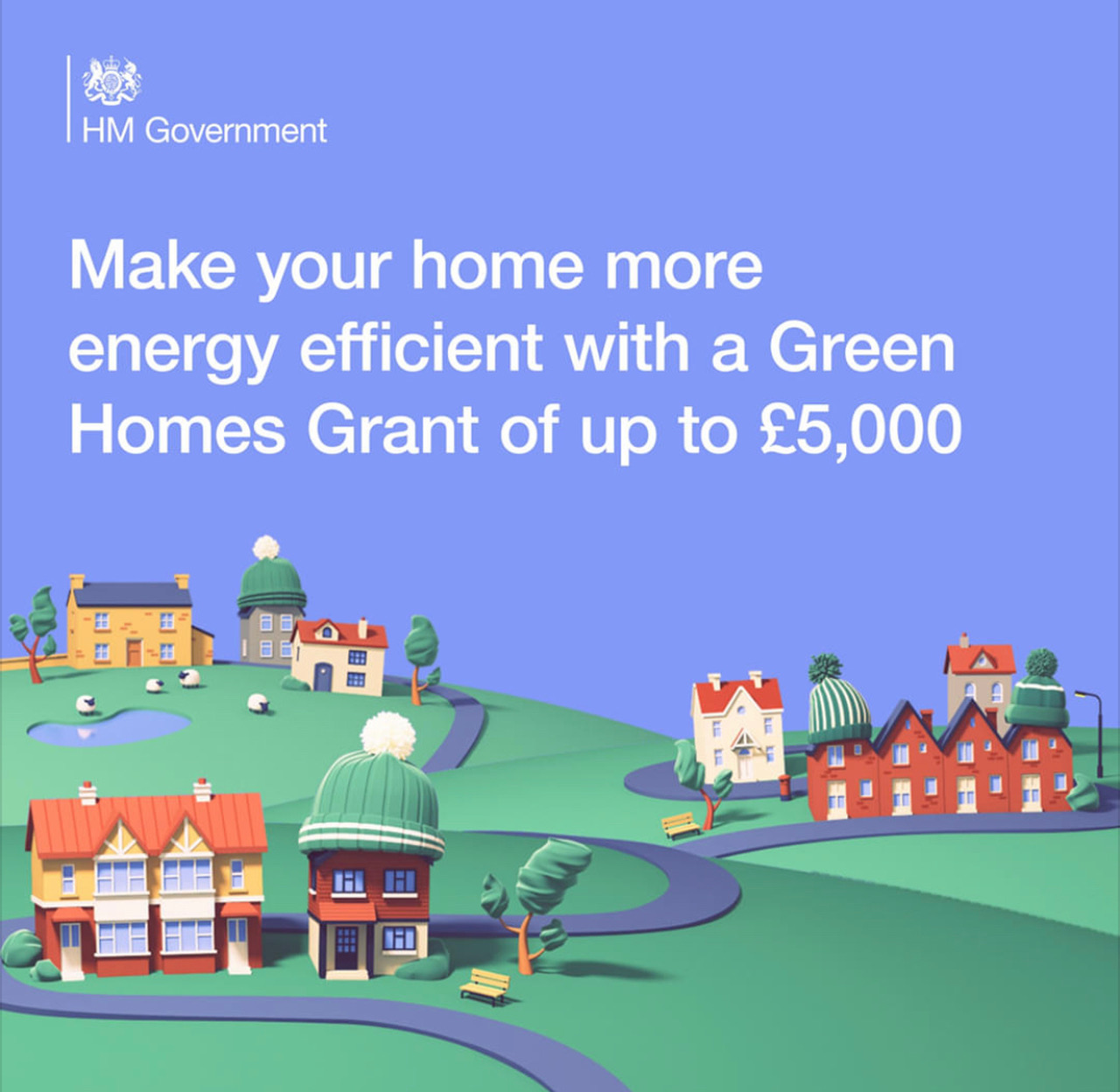 https://greenhomesgrant.campaign.gov.uk/?fbclid=IwAR1MK8-n2FhV7GceYLl28rcRhvS0pQldKsG66ohsHqjR7j8vZ2-m_7Rttgg

Make your home warmer and your energy bills cheaper with a Green Homes Grant.
Homeowners in England, including landlords, can get up to £5,000 to pay part of the cost of energy saving measures like insulation. Low income households can get 100% of the costs of work covered up to £10,000.
Make sure you're one of the 600,000 households who could save up to £600 a year on energy bills by applying today. Installing energy efficient home improvements also cuts emissions, which is better for the environment.
If you're a tradesperson, make sure you're eligible to carry out work under the scheme, which will support thousands of green jobs.
Homeowners
What is the Green Homes Grant?
The government will provide a voucher up to £5,000 that covers up to two-thirds of the cost of energy efficiency and low carbon heat improvements to your home. See which improvements are included in the scheme below.
You may be able to receive a bigger grant if you are a homeowner and you or a member of your household receives one of the qualifying benefits. The government will cover 100% of the cost of the improvements up to £10,000.
How do I apply?
Check if you're eligible for a voucher
Check what improvements may be suitable for your home
Choose which improvements you would like and see an estimate of how much they may cost
Find registered installers to get quotes to carry out the work
Apply for your voucher
The Green Homes Grant scheme will never include official representatives coming to your property uninvited or cold calling on the phone to encourage you to join the scheme.
Getting work done during national restrictions
Tradespeople, including Green Homes Grant installers, can continue to work in people's homes under the national restrictions from 5 November.
You can still apply for a grant and get the work done. Your installer will follow the COVID-19 Secure guidelines.
If you would prefer, to minimise contact during national restrictions, you can ask your installer to provide a quote remotely using a video call or detailed photos.
For further guidance on how to protect yourself and your tradesperson while getting work done during coronavirus, visit the TrustMark Work Safe, Safe Work website.